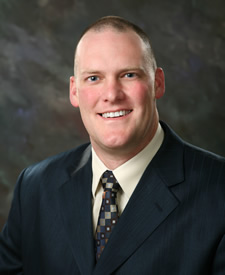 Pastor Aaron Hartman had the privilege of being raised in a Christian home in Frederick County. At the age of 6, God used a Bible message to convict his heart and show him the need of salvation. He received Christ that evening at his home. He began working in the bus ministry in his church when he was 9 years old. That same year, at a Bible Camp, he surrendered his life to the Lord.
Pastor Aaron graduated high school from Frederick Christian Academy in Frederick, Maryland. He earned a Bachelor of Arts degree in Youth Ministries from Pensacola Christian College in Pensacola, Florida in 2000.
It was during his freshmen year of college that God placed in his heart a desire for full time service and a desire to preach. He developed a heart and passion for working with youth while in Pensacola. He started his youth ministry during his last two years of college. He worked with youth at a church in the Pensacola area.
After college, he served as a Youth Pastor in Pennsylvania for 7 years. In 2007, Pastor Aaron was called as the Youth Pastor of Victory Baptist Church.
Pastor Hartman, his wife Beth and their daughters Payton, Julia and Joella reside in Sharpsburg, Maryland.